Why Should You Invest In A Website?
In the Digital Marketing industry and in any service industry, one question always comes up. Why should I buy this service? When I am selling my web design services to businesses, many businesses tell me that they are getting plenty of customers already without a website. These businesses tell me that they don't see any reason that they should invest in a website. However, bringing in more customers to your business is not the only reason that a business needs to invest in good web design. There are several other reasons why quality web design is essential for a business in 2021 such as building your brand, showcasing your products, ordering online, engaging with your customers, and providing better customer service.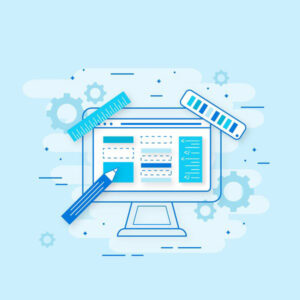 Build Your Brand
A big reason why a business needs quality web design is that a website can help a business reach a wider audience and advertise themselves. Americans spend up to five hours per day on the internet and an average of 23.6 hours per week on the internet. About 89 percent of American adults use the internet and 77  percent of American adults own a smartphone. The internet today is the main medium for advertising and communication so a business that does not have a website is missing out on a huge advertising and branding opportunity. Consumers today will consider a business that does not have a website to be less professional than a business that does have a website. Advertising and Marketing are not just about bringing more customers into your business, it's a valuable tool for building a brand and a reputation for your business. A website can provide engaging content where your customers can read about your business, your products and read reviews from satisfied customers that your business successfully served.
Enhance Your Customer Service
In 2018, 75% of people admitted to making judgments on a business's credibility based on web page design. Consumers will also use a website to search for basic information about the business such as location, hours, reviews, and products. A website that contains all the basic information about a business such as hours, location, and products can free up a lot of time for your staff which would otherwise be used to answer these questions to customers over the phone. Customers are more likely to buy from your business if all the information they need is easily available to them. If getting essential information about your business like your products and prices is difficult, that customer is more likely to go buy from your competitor. Quality web design can also increase the level of customer service that your business provides. Online ordering and payment can be implemented for convenience so consumers can buy your products from their fingertips. Having your addresses and locations available on Google as well as on your website makes it easy for customers to find you. Having a list of FAQs on your website will also save you time because customers won't have to call you to ask basic questions.
Stay Ahead Of Your Competition
Another reason why any business should have a website is to stay ahead of the competition. In any industry, a business must find ways to provide better products, services, customer service, and prices to beat its competitors. A website that provides useful information about your business and engages your customers can be a valuable tool to help you provide better customer service than your competitors. In some cases, a business may be forced to create a website just to keep up with their competitors who are using websites to connect with their customers. Quality web design for a successful business is no longer optional. It is mandatory for a business to have a well-designed website to provide better customer service, build a brand reputation, engage with customers, and provide valuable information about its products to its customers.